12. 09. 2023
Photo Exhibition from Victoria Ivleva in the University Library
Photo Exhibition from Victoria Ivleva in the University Library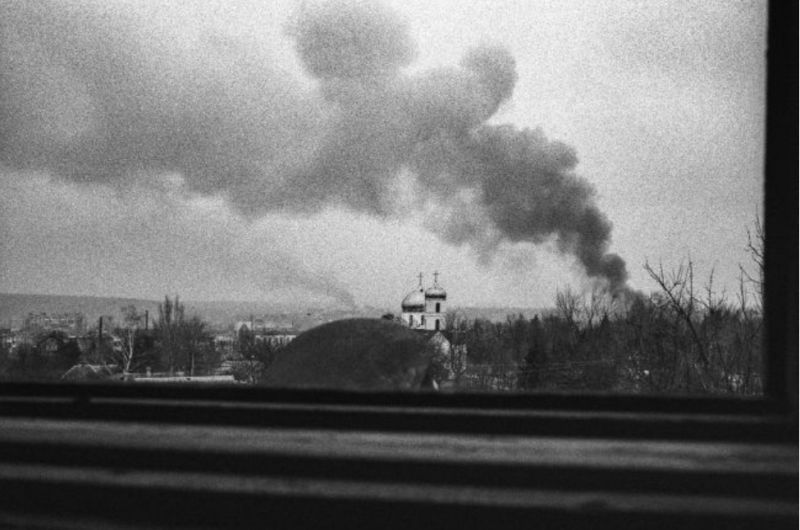 Bachmut Ausstellung
© Victoria Ivleva: Bachmut, Februar 2023, Allerheiligenkirche UOC
The University Library Bochum, in collaboration with the East Europe College NRW and the Seminar for Slavic Studies / Lotman Institute of Ruhr-University, presented a recent photo reportage by Victoria Ivleva.
The renowned photojournalist was present at the opening on Tuesday, May 16th at 6:00 PM in the Writing Café at the University Library. Ivleva showcased twenty-five black and white photographs from a journey to Bakhmut in the first half of February 2023, exhibited on Floor 1 of the University Library.
The exhibition was open from May 16th to July 31st, 2023.
The exhibition catalog is available in Open Access and a limited print edition. The curator of the exhibition is Oleh Sosnov from Ukraine.
Life under Fire
"The first sounds you hear from Bakhmut are the continuous echoing sounds of shots and explosions coming from different directions. Sometimes these sounds fade, but the silence that follows is no less menacing. You take a step and don't know what will happen next. You only know: you are entirely unprotected and just a moment away from death. Or a few centimeters. The feeling of an intangible danger lurking around every corner never leaves you for a second.
You are constantly under psychological pressure. Finding a place untouched by war here is difficult, and every simple walk on the street could be your last. People die in this city every day."
... This is how Victoria Ivleva describes the impressions from her journey to Bakhmut.
Victoria Ivleva
Video portrait available in the ARD-Mediathek of the ARD cultural program "ttt - titel, thesen, temperamente" from April 2nd, 2023 (duration: 6 minutes).
Since March 2022, shortly after the start of the Russian war of aggression against Ukraine, Victoria Ivleva has been living in Kyiv and actively supporting the country's fight for freedom. Her activities go beyond simple documentation of events. In February 2023, she was involved in the evacuation of people in Bakhmut who lacked the strength to leave their homes.
Victoria Ivleva has been honored multiple times for her outstanding dedication. She received the World Press Photo Golden Eye Award in 1992 for her photo project on the Chernobyl disaster. In 2008, she was awarded the "Gerd Bucerius-Förderpreis Freie Presse Osteuropas" followed by the "Andrei Sakharov Order For Courage" in 2014.
Opening
At the opening on May 16th at 6:00 PM in the Writing Café at the University Library, Dr. Jörg Albrecht, Director of the University Library, and Dr. Christina Reinhart, Chancellor of RUB, welcomed the attendees. Edwin Warkentin, Board Member of the East Europe College NRW, and Prof. Dr. Yvonne Pörzgen, Seminar for Slavic Studies / Lotman Institute, RUB, gave introductory speeches. Victoria Ivleva shared her experiences and answered questions.