Mobility Grants for International Researchers offered by the RUB Research School
PhD-Exchange
RUB Research School awards PhD Exchange scholarships to international doctoral researchers within an exisiting research cooperation. It is endowed with a monthly stipend of 1.000€ for up to six months.
Research Assistantships
This fellowship allows you to get to know our university as your potential future working place and write a joint application for funding proposals on-site. It is endowed with 4,500 € for a three-month visit. There are two calls each year (June, November). Both international prospects and RUB professors can initiate an application.
Visiting International Professor
The Visiting International Professor Fellowship (VIP) is awarded to outstanding international researchers contributing to early career researcher training at RUB by teaching, giving scientific advice, or becoming a supervisior and mentor. Research School supports VIP fellows with a travel grant of 5.000 € for repreated visits to Bochum.
All application deadlines are November 15th, 2023.
All application deadlines
For more information on requirements and applying, see the links below.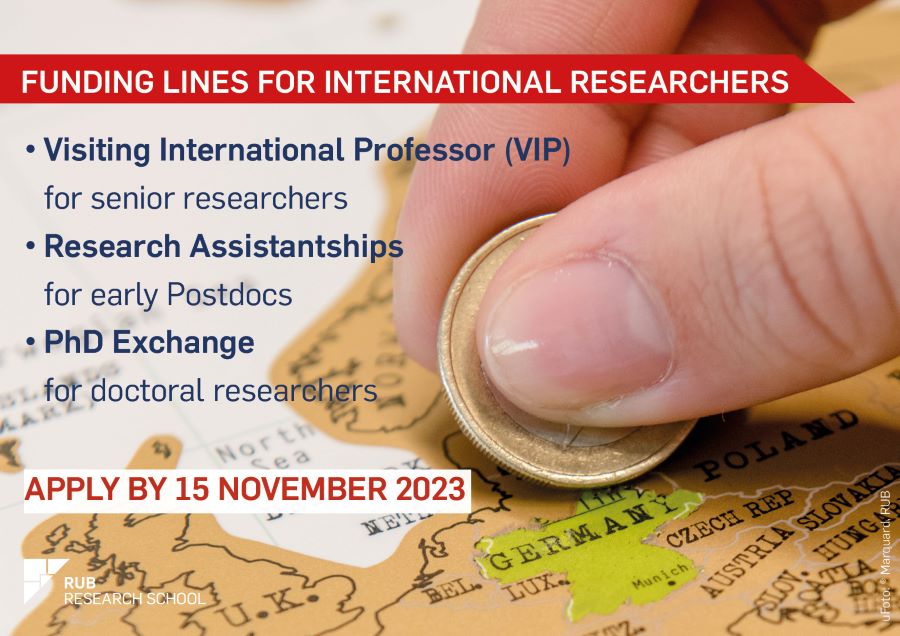 Fedor Stepun Fellowship Program
The Zimin Foundation partnered with the Boris Nemtsov Foundation for Freedom to provide financial resources to create the "Fedor Stepun Fellowship Program." The goal is to provide support for postdoctoral researchers affected by the war in Ukraine and beyond.
Summary
The program will provide eight (8) postdoctoral fellowships for researchers from all scientific fields who were forced to leave their countries on account of political persecution regarding the current war in Ukraine. Each fellowship will last 4 months and includes 2,000 € per month, i.e., a total of 8,000 €.
Writing a Research Proposal
An important part of the process will require participants to develop their own research ideas and prepare grant proposals for research projects, which will be submitted to prestigious scientific institutions in Germany and/or other European countries. This will initiate the integration process into the European academic system and could inspire cooperation with future projects. For further assistance, the RUB Research School and Research Support Office of the university is available.
Potential Hosts
Host options consist of the three universities of the University Alliance Ruhr, i.e., Ruhr-University Bochum, TU Dortmund University, and the University of Duisburg-Essen. We would advise against directly contacting potential hosts; however, please mention your preference/selection in the application form. The administrative team will reach out to professors and take care of the hosting for you.
Review Criteria
Personal situation
Academic quality
Idea und feasibility of postdoc project
Deadlines
Call opens on May 15, 2023
Application deadline is June 30, 2023.